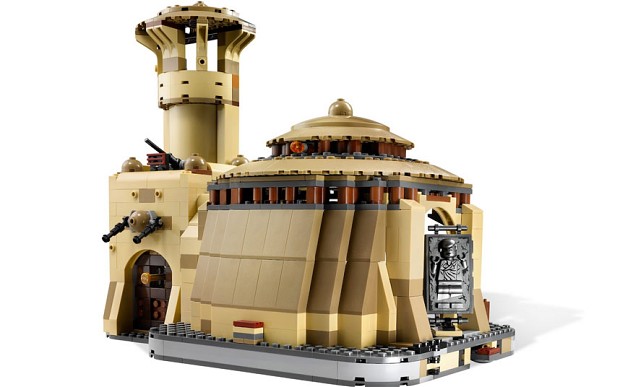 Austria's Turkish community said the model was based on Hagia Sophia mosque in Istanbul and that the accompanying figures depicted Asians and Orientals as people with "deceitful and criminal personalities."
The Turkish Cultural Community of Austria released a statement calling for Lego to apologise for affronting religious and cultural feelings.
The anger was provoked by "Jabba's Palace", a model of the home of Jabba the Hutt from Lego's Star Wars product range based on the blockbusting series of science fiction films.
Jabba is the large slug-like creature who holds Han Solo captive in the film Return of the Jedi, and his palace is the setting for several crucial scenes, including using Princess Leia as his slave.
Jabba's domed home and accompanying watchtower bear, according to the statement, an unwanted resemblance to Istanbul's great Hagia Sophia, and another mosque in Beirut.
A picture posted on the Cultural Community's website includes the box for Jabba's Palace with arrows pointing out similarities to a picture of the Hagia Sofia mosque.
A converted Christian basilica and famed for its massive domed roof, the Hagia Sofia is one of the most famous mosques in the world and served Istanbul's Muslim community for over 500 years before becoming a museum in 1943. It is also regarded as one of the finest, and largest examples, of Byzantine architecture.
The Jabba case came to light after an Austrian Turk complained to the organisation after his sister had bought his son the box set.
Austria's Turkish community also took issue with the figures that went with the palace, including Jabba.
"The terrorist Jabba the Hutt likes to smoke a hookah and have his victims killed," said the statement posted on the organisation's website.
"It is clear that the ugly figure of Jabba and the whole scene smacks of racial prejudice and vulgar insinuations against Asians and Orientals as people with deceitful and criminal personalities."
The crimes associated with the figures, the statements adds, include terrorism, slavery, murder and human sacrifice.
Taking into account that many of the Lego figures carry weapons, the Turkish organisation also urged parents "not to buy toys of war or toys of discrimination" as the model goes against the "peaceful coexistence of different cultures in Europe".
As an indication of the anger felt over Jabba's Palace, the organisation said it was considering taking legal action against Lego for inciting racial hatred and insulting human dignity.
Katharina Sasse, a public relations manager working on behalf of Lego, denied any link between Jabba's Palace and the mosque.
"The Lego Star Wars product Jabba´s Palace does not reflect any actually existing buildings, people, or the mentioned mosque," she said. "The Lego mini-figures are all modelled on characters from the movie.
"We regret that the product has caused the members of the Turkish cultural community to come to a wrong interpretation, but point out that when designing the product only the fictional content of the Star Wars saga were referred to."