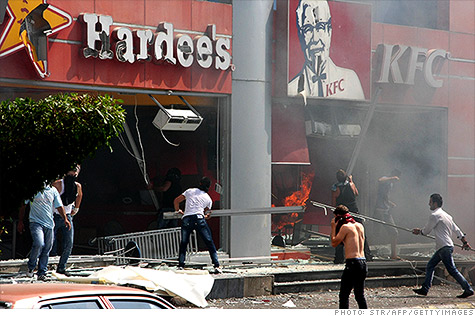 Yum! Brands is shuttering all of its KFC franchises in Pakistan in the wake of anti-American protests there, after one of its KFC restaurants was attacked in Lebanon last week, the company said Friday.
"Our KFC restaurants in Pakistan are closing as a precautionary measure," said Yum! Brands (YUM, Fortune 500) spokesman Christopher Fuller. "They will continually monitor the situation to decide when to re-open."
KFC has more than 60 restaurants in 21 Pakistani cities, and has a significant presence throughout the Muslim world. A division of the company called KFC Arabia has franchises in 11 Middle Eastern cities.
On Sept. 14, protesters enraged by a crudely-made anti-Islam video produced in the U.S. attacked a KFC restaurant and two other American franchises — a Hardee's and a Krispy Kreme (KKD) — in Tripoli, Lebanon.
KFC closes restaurants in Pakistan amid protests – Sep. 21, 2012.