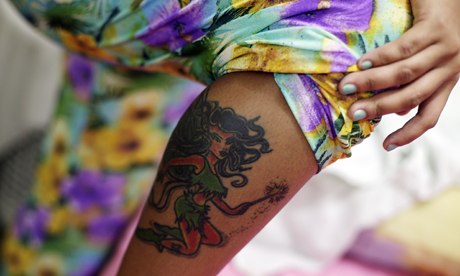 A tiny figure in minuscule white shorts and a pink strapless top leans against a metal fence outside a school in Fortaleza, the capital of Ceará state, north-east Brazil.
She has gloss-coated lips, and her yellow headband, holding back long hair, glows in the lamplight along Juscelino Kubitschek Avenue, which connects the city to the Castelão arena, one of the venues for the 2014 World Cup. A car pulls up. The girl climbs in.
This is a common scene around the stadium in Fortaleza, considered Brazil's child prostitution capital and a magnet for sex tourism, according to local authorities.
Transvestites also work the dusty pavements of this newly renovated thoroughfare but young girls are in higher demand. "As soon as they hit the avenue they're picked up," says Antônia Lima Sousa, a state prosecutor who works on children's rights in Fortaleza. "It's really a matter of minutes. You'll find them around town during the day too."
Despite more than a decade of government pledges to eradicate child prostitution, the number of child sex workers in Brazil stood at about half a million in 2012, according to the National Forum for the Prevention of Child Labor, a non-governmental organisation.
That's a fivefold increase since 2001, when 100,000 children worked in the sex trade, according to estimates by Unicef, the UN children's charity.
And with the World Cup approaching in June, officials and campaigners fear an explosion in child prostitution as sex workers migrate to big cities from interior states and pimps recruit more young people to meet increased demand from local and foreign football fans.
"We're worried sexual exploitation will increase in the host cities and around them," says Joseleno Vieira dos Santos, who co-ordinates a national programme to fight the sexual exploitation of children at Brazil's Human Rights Secretariat. "We're trying to co-ordinate efforts as much as we can with state and city governments to understand the scope of the problem."
But the authorities have a battle on their hands as sex workers prepare to cash in on a bumper trade.
Brazil's child sex trade soars as 2014 World Cup nears | Global development | theguardian.com