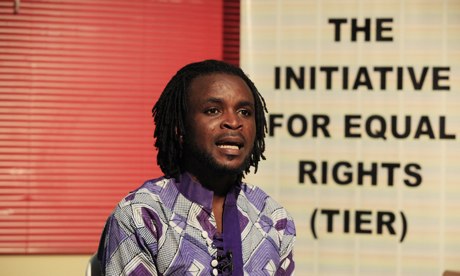 First the police targeted the gay men, then tortured them into naming dozens of others who now are being hunted down, human rights activists said Tuesday, warning that such persecution will rise under a new Nigerian law.
The men's alleged crime? Belonging to a gay organization. The punishment? Up to 10 years in jail under the Same Sex Marriage Prohibition Act that is getting international condemnation.
Dubbed the "Jail the Gays" bill, it further criminalizes homosexuality and will endanger programs fighting HIV-AIDS in the gay community, Dorothy Aken'Ova, executive director of Nigeria's International Center for Reproductive Health and Sexual Rights, told The Associated Press on Tuesday.
U.S. Secretary of State John Kerry on Monday condemned the law.
"Beyond even prohibiting same sex marriage, this law dangerously restricts freedom of assembly, association, and expression for all Nigerians," Kerry said in a statement.
On Monday, President Goodluck Jonathan's office confirmed that the Nigerian leader signed the Same Sex Marriage Prohibition Act that criminalizes gay marriage, gay organizations and anyone working with or promoting them.
The witch hunt in Bauchi state all began with a wild rumor that the United States had paid gay activists $20 million to promote same-sex marriage in this highly religious and conservative nation, according to an AIDS counselor.
He said he helped get bail for some 38 men arrested since Christmas. The man spoke on condition of anonymity for fear he too would be arrested.
He and Aken'Ova said dozens of homosexuals have fled Bauchi in recent days.
Aken'Ova, whose organization is helping with legal services for the arrested men, said a law enforcement officer pretending to be a gay man joined a group being counseled on AIDS. Police detained four gay men and then tortured them until they named others allegedly belonging to a gay organization, she said, adding that police now have a list of 168 wanted gay men.
She said the arrests began during the Christmas holidays and blamed "all the noise that was going on surrounding the (same sex marriage prohibition) bill."
Chairman Mustapha Baba Ilela of Bauchi state Shariah Commission, which oversees regulation of Islamic law, told the AP that 11 gay men have been arrested in the past two weeks. He said community members helped "fish out" the suspects.
"We are on the hunt for others," he said, refusing to specify how many.
Bauchi state has both Shariah law and a Western-style penal code. Shariah is Islamic law, which is implemented to different degrees in nine of Nigeria's 36 states.