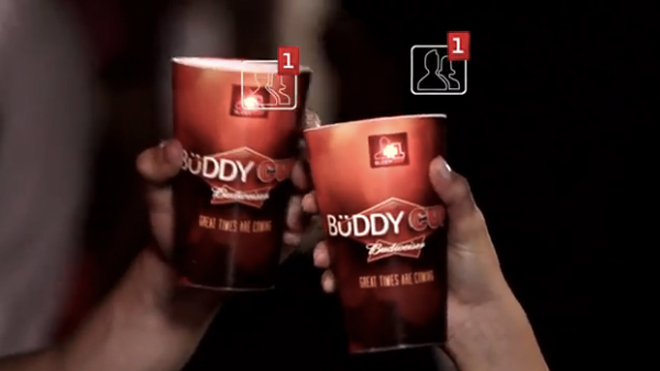 Toasting with new friends just got a futuristic, and slightly creepy, upgrade.
Budweiser recently unveiled the "Buddy Cup," a pint glass with a built-in chip that connects to Facebook. The cup automatically connects people on Facebook when they clink glasses with another "Buddy Cup" user, creating a virtual friendship instantly.
The cup's promotional video shows the glass being tested in Brazil as images of drinkers enjoyably clinking pints flash across the screen.
"So, they just did the same as always: Went out drinking Bud, and making new friends," a male narrator announces in the company's commercial. "Buddy Cup: the more Buds, the more friends."
Feedback toward the Facebook-integrated glass has been mixed.
Tech blog BetaBeat writes, "In the olden times, clinking your beers together with a stranger was a sign of celebration—a mutual agreement that things were about to get weird. The fact that you'd never have to see them again or explain why you puked down the front of your shirt was a significant part of the appeal. Now, Budweiser is about to destroy that sacred experience with the introduction of the Buddy Cup."
Responses on Twitter highlight the creepy factor in sharing contact details with the clink of a glass.
"This is a bad idea, @Budweiser," writes ecarlson23. "I don't want my drunk life posted all over facebook."
Another user writes, "This is so wrong, in so many ways – Budweiser."
The cup was developed by advertising agency Agencia Africa in partnership with Bolha, a digital innovation studio in Sao Paulo. The idea was to create an interactive relationship between consumers and the product.
"Innovation is in Budweiser's DNA," Sergio Gordilho, chief creative officer at Agencia Africa, told The Drum. "Its platforms are constantly surprising consumers with the best there is in terms of premium experiences. The 'Buddy Cup' is another idea bringing the brand even closer to its consumers and opening new levels of interaction for them."
Budweiser unveils beer glass that connects to Facebook | Fox News