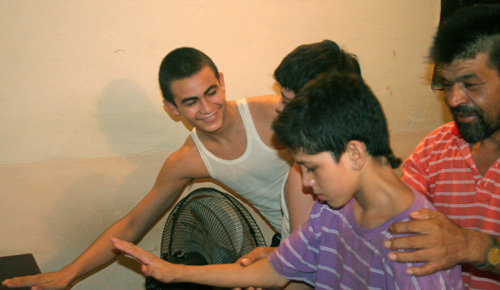 Young Mexicans are being abducted from poor towns and villages and forced to work for drug gangs, rights groups say, alleging the authorities are failing to do anything to stem the problem.
Stories of young people disappearing, as if swallowed up by the earth, are spreading in parts of Mexico gripped by drug violence which has left some 50,000 dead, according to media counts, in the past five years.
Non-governmental groups in the northern states of Nuevo Leon, where Monterrey lies, as well as Coahuila and Michoacan, to the west, have documented more than 1,000 disappearances from 2007 to 2011.
But they say they cannot prove that the youths were forced into working for organized crime groups which have rained terror on parts of Mexico as they battle for control of the lucrative multi-billion dollar drug business.
"They tried to take me away around seven months ago," said one 17-year-old in a recorded testimony obtained by AFP from a non-governmental organization.
The youth, who declined to be named, lives in a poor suburb of Monterrey, a flashpoint in Mexico's drug wars where the Zetas gang are fighting a vicious turf war with their former employers, the Gulf cartel.
Armed men forced him into a car one night as he talked to a friend on the street.
"I was frightened, shaking and shaking," the youth said, explaining how he tried to persuade the men to release him by appealing to their religious side, and telling them he had a Bible with him.
He said he was lucky because they finally let him go.
"If you walk the streets after 11:00 pm they abduct you," warned another youth in the same recording, also requesting anonymity.
Requests by AFP to the Mexican attorney general's office for information and a comment on the official numbers of people who have disappeared were not answered.
But a year ago the National Human Rights Commission, a state body, said there had been around 5,000 disappearances since President Felipe Calderon started a military crackdown on drug gangs in December 2006.